Speed-kick photo gives your business a kick-start
One look at the media is enough to see the spectacular pictures of football stars being caught on camera right before they make their decisive shot – with our speed-kick photo module you can capture the same unique moment of your experience.
Was I being to excited and left out some details? Okay then, let´s start from the beginning: Our classic football module speed-kick – which captures your exact shooting speed via radar and shows the outcome on a LED display – now got combined with an highly intelligent software and a GoPro. This means, you get a high-quality photo of your best shot to take home. The speed-kick photo module has the most modern technology with a software, that identifies the exact moment before you kick the ball, with its webcam and special radar. That is the moment a photo is taken which you can hold in your hands right after, because we print it for you to take home.
Score with the speed-kick photo module
By using the speed-kick photo module you get the attention of everyone guaranteed!
For a perfect standing of your business you can use a crossbeam draped noticeable with your branding. Our crossbeam is convertible specially for this module and your requirements. This gives you the possibilities to clamp various banners without them getting affected by the balls flying around.
As a special feature you can place your logo on the printed photos the participants take home. Your company will be visibly attached to the picture and the memory of this certain experience.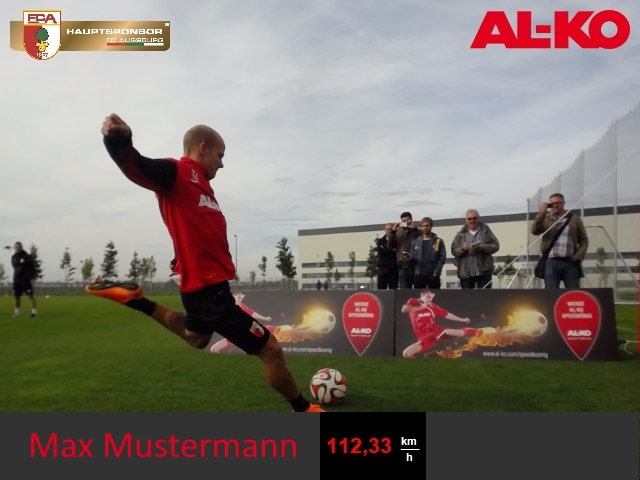 Speed-kick photo module wins
To guarantee a certain variety in the use of the speed-kick photo module, we developed alternatives to the simple shooting. How could an alternative look like, that guarantees equal opportunities for mothers, grandchildren, grandparents, etc.? Like this for example: the challenge is to get to a certain speed within 3 shots, for example 150 mph. Not that easy when the speed-kick photo module measures two decimal places! This gives you the possibility to expand the range and flexibility of this module. This showed great results at Kyocera in Bochum, Porsche in Leipzig, Red Bull in Leipzig or Ochsner Sport in Ludwigsburg. The speed-kick photo module just inspires and astonishes everyone!
https://www.kick-point.com/wp-content/uploads/Kick-Point_logo.png
0
0
Bastian
https://www.kick-point.com/wp-content/uploads/Kick-Point_logo.png
Bastian
2017-03-20 16:44:03
2017-03-20 16:44:03
Speed-kick photo gives your business a kick-start