All types of graphics, logos, images and texts can be integrated into the game control features on the display screen. There are no limits to imagination in Display Screen Advertising, because the game control features are backed up by videos and sound clips.
Essentially speaking, everything visible on a display screen can be adjusted to accommodate customers' requirements. Perhaps, you are considering placing advertising on the background to a game, or put logos as aiming points on the display screen; or maybe, set a goalkeeper with a logo on his dress? The possibilities here are practically unlimited.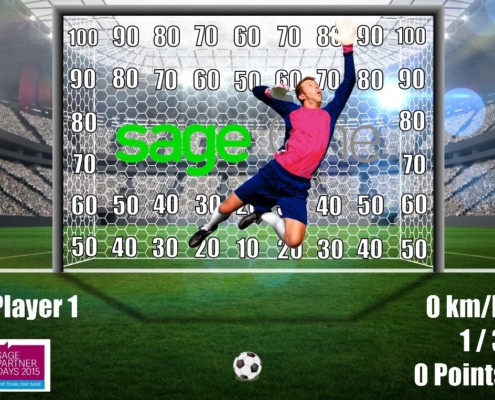 1
exchangeable target graphics
2
depending on your game a virtual goalkeeper can be added.
3
background is completely customizable
4
your logo on the screen? no problem!
5
player counter (optional)
6
player results: current score, shot counter and shot speed. Text style and size are adjustable. Each element can be hidden.