You Branding

screen

banners

certificates
The Kick Point Electronic and Interactive Soccer Module can provide extensive branding possibilities via its multifaceted display forms and game variations, from banner advertising and brand advertising, through to certificate branding, right up to interactive advertising effects, on the display screen.
All types of graphics, logos, images and texts can be integrated into the game control features on the display screen. There are no limits to imagination in Display Screen Advertising, because the game control features are backed up by videos and sound clips.
Essentially speaking, everything visible on a display screen can be adjusted to accommodate customers' requirements. Perhaps, you are considering placing advertising on the background to a game, or put logos as aiming points on the display screen; or maybe, set a goalkeeper with a logo on his dress? The possibilities here are practically unlimited.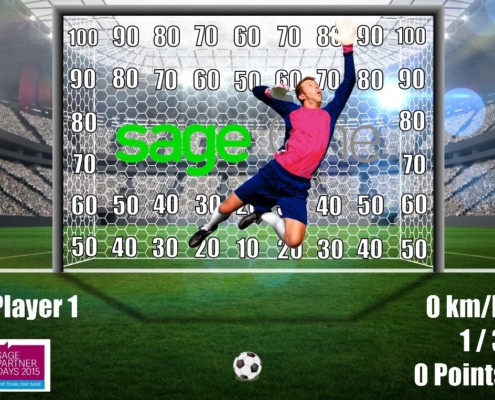 1
exchangeable target graphics
2
depending on your game a virtual goalkeeper can be added.
3
background is completely customizable
4
your logo on the screen? no problem!
5
player counter (optional)
6
player results: current score, shot counter and shot speed. Text style and size are adjustable. Each element can be hidden.
The electronic football goal can basically be used without "trappings". For most events, however, a shot cage is recommended. A special eye-catcher, the module in conjunction with a truss cage, which is equipped with individual banners around, attention guaranteed!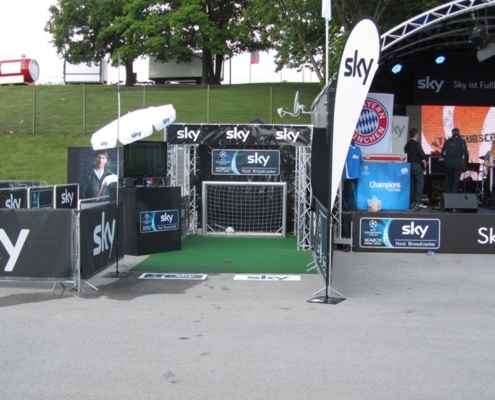 Each player at the Kick-Point will automatically receive a certificate giving information about his individual shot accuracy and shooting speed. The certificate can of course be designed in the corporate design of the customer. In combination with our online connectivity feature, an imprinted QR code can also work as a way to upload the player's results directly to an online leaderboard.
1
individual information for each shot
2
Overall score and best result can be shown
3
additional elements such as texts, date, player counter etc. are possible
4
use your individually designed certificates