Soccerex Global Convention exhibited Kick-Point fun & football at 20th jubilee
Kick-Point fun & football, producer and supplier for football entertainment products like interactive football goals, speed kick and radar systems etc. exhibited fourth time at Soccerex in Soccerex  20th year.
The Kick-Point interactive football goal that has found its clients and customers since 2003 in over 25 countries being used for UEFA, FIFA, professional football club projects and also for all kind of sponsoring activation concepts of all kind of football sponsors.
Beside the electronic football goal that Kick-Point fun & football already presented at Soccerex Global Convention back in South Africa, Kick-Point presented also some new items like the dribble parcours and the foto kick.
The dribble parcours challenge is a computer assisted time trial around a 10 metre track; this uses a traffic light system as a starting signal. The participant starts when the red light turns green and dribbles around the course as fast as possible. There are 2 intergrated light barriers register which registers 4 split times around the course – reaction time, sprint time, turning time, slalom time – these 4 times are assumed to 1 overall time.
The speed kick foto or foto kick – score with style – have a photo. Our new line extension in addition to our radar speed detecting is the Speed Kick with photo. Every player gets a A6 4c photo print out which includes his best shot's speed and the sponsor's logo. The speed Kick or shoot out modules are multi sport radar systems to detect ball speed. They can b used for multiple sport activities such as football, rugby, team handball, tennis, etc ..
The Soccerex Global Convention 2015 Manchester recorded increased levels of attendance and record levels of rights holder participation.
The Soccerex is very important for international networking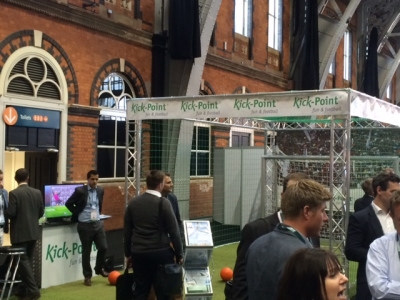 The Global Convention, took place at the Manchester Central Convention Complex, from 7th to 9th September and presented interesting products and services within the soccerex exhibition.
Soccerex has long been recognised as a key meeting place for the world's rights holders and this year over 700 attended the Convention. This record level of buyers at the event was driven by institutional partnerships with LaLiga, The Football League and Ligue de Football Professionnel (LFP), with the former two holding official meetings at the event, ensuring the attendance of all 20 and 72 of the members clubs respectively.
The -global nature of the delegates in attendance was also evident with over 80+ countries represented  as delegates flew  in from as far afield as China, India, Australia, Brazil, South Korea and Russia meaning there were  always new business strategies to be learned and new football cultures to be discovered.
Soccerex program – special and unique
The Conference Programme provided the usual mix of business best practice and exclusive insights from the game's biggest names. The Studio was home to industry heavyweights from key sectors of world football with 15 sessions across three days.
Some of the key headlines that emanated from the Studio included:
The Academy was a hub of learning, insight and creativity which saw 20 individual workshops focusing on finance & law, social & digital media, performance, match day operations and sponsorship. It was the platform for some of the game's biggest companies with the likes of Twitter, Heineken, FC Barcelona, Facebook, Barclays, the All India Football Federation and the Deutscher Fußball-Bund (German FA) all sharing their business acumen and industry secrets.
As with every Soccerex event, there was a host football legends participating in talks or walking around the exhibition floor to meet new businesses. One of those talks involved Michael Owen, Jay-Jay Okocha and Gaizka Mendieta discussing the World Cup experiences to a packed audience, whilst Nasser Al Khater, Assistant Secretary General, Tournament Operations at the Supreme Committee for Delivery & Legacy, discussed how the country is going to change the way fans consume and attend a World Cup.
With the new Half Time Networking Lounge complimenting the ever vibrant networking cafe and the relaxed social evenings at the National Football Museum, the Convention was a three day networking extravaganza. An expanded SoccerMatch facility, which links clubs and suppliers together in a speed dating format, once again proved to be a valuable component of the event with multiple deals being agreed on the day or to be signed in the following weeks. Soccerex as usual.
https://www.kick-point.com/wp-content/uploads/Kick-Point_logo.png
0
0
Bastian
https://www.kick-point.com/wp-content/uploads/Kick-Point_logo.png
Bastian
2015-11-16 15:25:46
2015-11-16 15:29:07
Soccerex Global Convention exhibited Kick-Point fun & football at 20th jubilee