Kick-Point opiera się na multimediach. Wszystkie informacje o grach i graczach mogą być zamieszczane w internecie.
Mówi się, że "nawet po meczu jest przed meczem". To zdanie dotyczy również Kick-Pointa. Gra nie kończy się po oddaniu strzału, bo wszystkie dane (najwyższy wynik, informacje o uczestnikach itd.) mogą być udostępnione w internecie po zakończeniu gry. Gracze mogą mieć dostęp do tabeli wyników, która zawiera dane wszystkich uczestników, co pozwala porównywać swoje osiągniecia z innymi. Szczególnie młodzi uczestnicy uwielbiają używać internetowych możliwości Kick-Pointa. A co ważne dla firm, strona internetowa może zostać specjalnie zaprojektowana na ich potrzeby.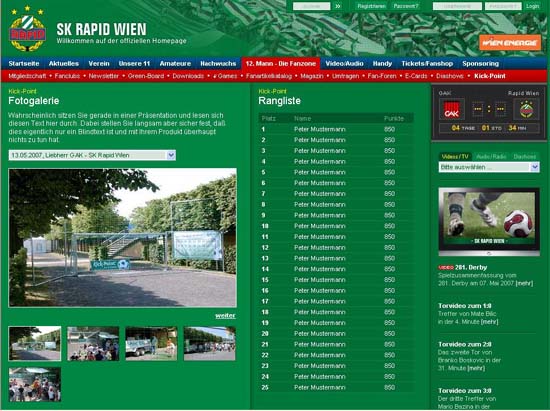 Wysyłanie wyników gier bezpośrednio na telefony komórkowe
Wykorzystaj wszystkie możliwości jakie daje najnowsza generacja oprogramowania Kick-Point pozwalająca na integrację z telefonami komórkowymi. Pozwala ona na przesyłanie , bezpośrednio przez SMS-y, informacji o grze, o nagrodach dla uczestników na telefony. Stwarza to wiele możliwości np.- ktokolwiek uzyska 200 punktów lub więcej może być nagrodzony nowym dzwonkiem na telefon za pomocą specjalnego SMS-a.