our dribble parcours

a real sporting challenge

usable for different sports
The dribble course shows who dribbles the ball through the obstacle course the quickest and easiest with the ball. Reaction, a quick start and, above all, a good ball feeling should bring those who want to land in the top 10 super dribbler.
In the course, however, not only the total time of the race is measured. As soon as the traffic light changes from red to green, the runner starts with the ball at the starting line. After a quick start and a short sprint along the obstacle course, the runner uses the last obstacle with a ball and guides the ball through the obstacles back over the obstacles finish line.
The runner receives after the run an evaluation which gives information about the reaction time, start time, the time of turning with ball as well as the slalom time. A challenge for every sports enthusiast – big or small! Of course, the dribble course can not only be used for football action.
It is also the appropriate action module for hockey, basketball, handball dribbles or even without a ball as a pure running module. But no matter which possible application of this versatile action module you decide: In dribble parcours is always the skill and the pace in the foreground!
Our dribble course can be combined with other event modules: For example, the dribble course in conjunction with the electronic football goal, a golfer's course and artificial turf for the action area turns into an event module that has no equal.
Combined this way, not only the player's speed and responsiveness can be put to the test, but also the goal completion and the shot precision!
In addition, there is enough space to present brands effectively.
ATTENTION: This combination is also suitable for several players at the same time, as well as other sports such as handball, basketball, ice hockey and many more!
Optics are not everything, yet very important for most customers. Therefore, advertising boards are also available for the dribble course. At the same time, the action area is separated from the auditorium and enough space is created for your advertising messages. As obstacles to the course, we can also use advertising media such as inflatable obstacles in addition to our blue pylons. In addition, each player receives a printout of his results, which can be provided with your logo.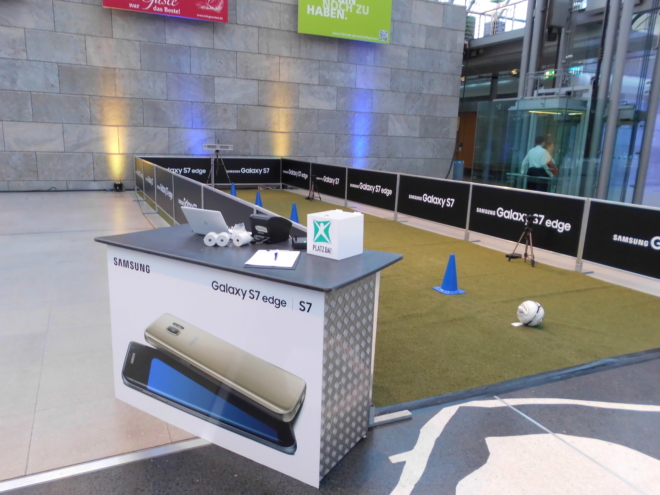 1
Adboards (printed on both sides)
2
Result-expression: individual times of the players, on request with company logo
3
Promotional counter: Front customizable
4
Obstacles for the course can be individualized